Neon Stitch

Brooklyn, NY 2021
Neon Stitch is a one-of-a-kind light piece that creates a design language between its two materials: wood and light.
Inspired by traditional woodworking joinery methods used to reinforce naturally occurring checks, Neon Stitch uses bent neon to join two walnut slabs. While butterfly joints are typically used to reinforce cracks within wood, this approach is revisited to replace and augment the joints with a contrasting material—neon tubes—thus, 'stitching' together two live edges of walnut. The precise bends of the neon tubing interact with the live edges of the walnut, creating a synergy between natural and handmade. The end result is a sculptural light piece that adds dimension and light to any environment.
Shown
@raaadiator
coinciding with NYCxDesign's
Design Days
Dimensions: 36" x 17" x 2 1/2"
Materials: Walnut with natural hard wax oil finish / 10mm Satin White coated glass filled with argon with mercury
Please contact me for more information and custom orders.
Tilt Table


Brooklyn, NY 2022

As we adapt to a new normal with our homes now serving multiple functions—kitchens and living rooms becoming offices and meeting spaces—our boundaries between work and life have blurred. Our furniture now takes on an added role to perform beyond their original intentions. The Tilt Table is a response to that performative need, offering a way to flip the switch and enter a new mindset.

The Tilt table is a minimally designed side table with geometric cuts carved into its boxy form. In its upright position the side table provides a flat surface suitable for working, when tilted on its sliced corner only a small shelf is available for use, sized to fit a single glass. Through the physical act of tilting your furniture, you're able to provide a new function, elevating each ritual.



Dimensions: 10.5" x 10.5" x 18"
Materials: Shown in ash veneer with hardwax oil finish.


Please contact me for more information or custom orders.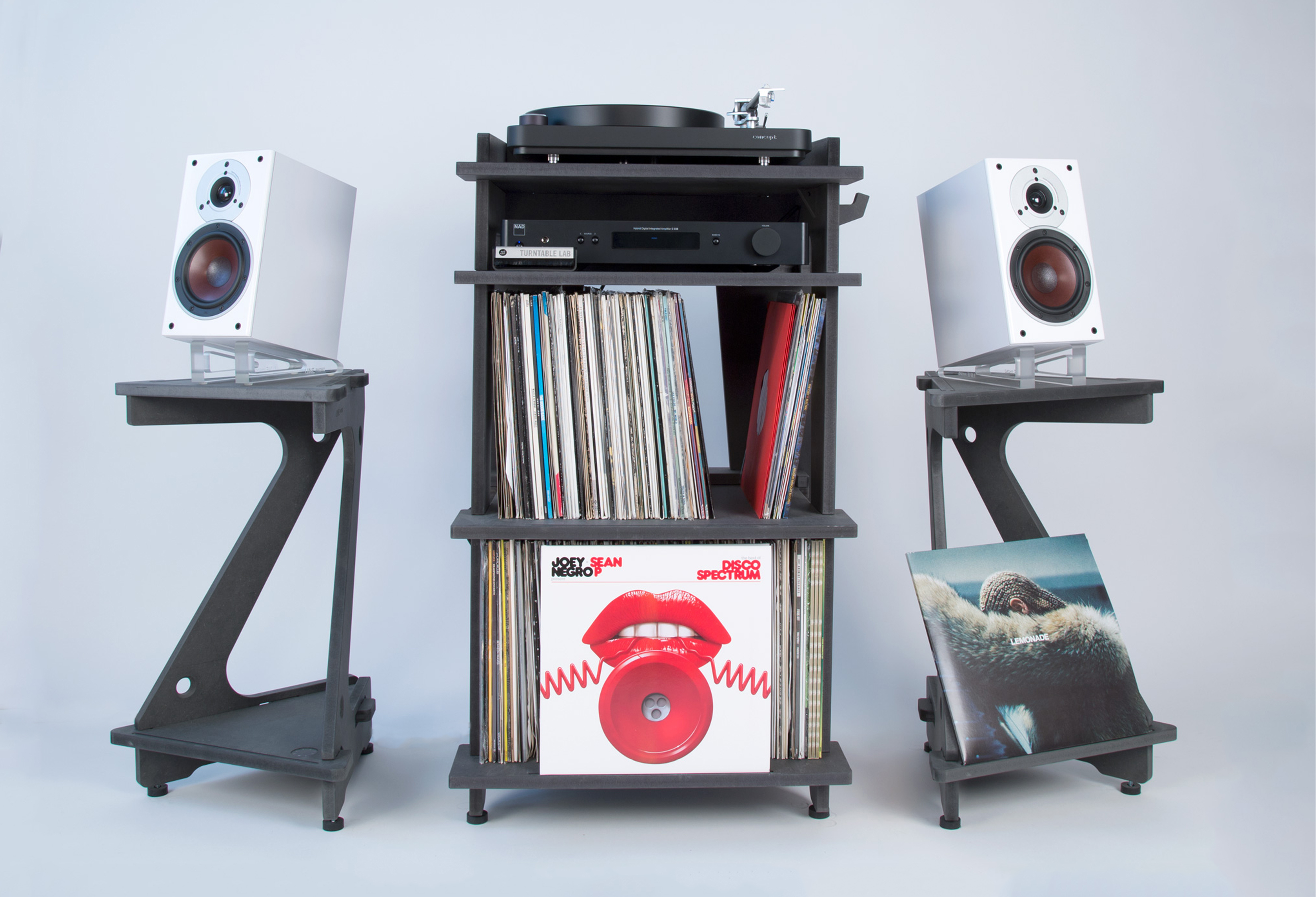 Line Phono Speaker Stands

New York, NY 2017
In collaboration with
Turntable Lab
, I designed the
Line Phono Speaker Stands
to accompany their Turntable Station. Line Phono is a flat-pack furniture line for turntables and audio accessories for the newest generation of audiophiles.
The stands are designed with a multitude of users in mind. With only four CNC-milled parts to slot together, assembly is quick and effortless. Applying the joinery techniques and minimal hardware of the Turntable Station, a triangular stand was developed to add new functionality and flexibility. The top platform is sized to fit most bookshelf and bluetooth speaker setups with the base plate offering record storage and a 'now spinning groove' to display your favorite album artwork. Cable management holes are strategically located, with the option to either showcase the user's high-end cables or neatly hide them away.
Clear
acrylic anglers
were also designed as a paired accessory to the speaker stands.
Company: SITU
Client: Turntable Lab
Photography: Courtesy of Turntable Lab
Bower Desk


Brooklyn, NY 2023


Functional simplicity with an artistic touch, the Bower Desk is a minimal workstation crafted from solid white oak. Its planar worksurface balances atop two asymmetrically arranged block legs, creating a dynamic cantilevered design.

Finished with a natural oil, the desk preserves a raw wood appearance with the addition of a vibrant touch of pink dye to one leg, offering a pop of color while maintaining the natural characteristics of the wood textures—a nod to the client's own design practice of naturally dyed textiles.



24" x 90" x 29.5"
Solid White Oak top with hardwax oil finish
Pink dyed white oak leg


This piece was designed and fabricated for a private residence.

Please contact me for more information and custom orders.





Orbit Table


Brooklyn, NY 2021


An asymmetrical arrangement of painted steel legs intersect with the table top and shelf, playing with function and balance. One leg pierces the table top, creating a graphic representation on the surface—pulling inspiration from a lunar orbit path.


44" x 22" x 18"
White oak with oil finish
Painted steel in Royal Red


This piece was designed and fabricated for a private residence.

Please contact me for more information and custom orders.